Original article

Published on: 5 March 2018

Original article

Original article

Published on: 12 February 2018

Original article

Published on: 5 February 2018

Review

Published on: 19 January 2018
Aims and scope
Focuses on clinical and research studies conducted with hybrid or multimodality imaging techniques.

Contents include original research articles, short communications, case reports, reviews, guidelines, editorials, and letters.

The European Journal of Hybrid Imaging publishes new basic and clinical research in the field of imaging, conducted with hybrid or multimodality techniques.

Regular features include original research articles, brief communications on novel preliminary approaches, interesting case reports, reviews, guidelines, editorials, and letters to the editor. Educational articles on hybrid imaging modalities and their pre-clinical and clinical applications are also accepted. Review articles  provide updates on current applications and issues in the clinical application of hybrid imaging. Guidelines, published by experts from different clinical disciplines, include the clinical, educational and procedural recommendations on the use of hybrid imaging.
The unique characteristic of this journal is the focus on hybrid and multimodality imaging technology in different clinical and research fields: oncology, neurology, cardiology, orthopedics, infection imaging.
Editor's Quote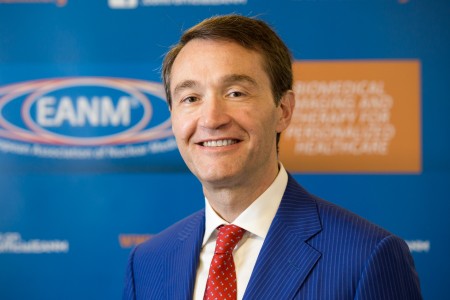 Imaging is developing at an exceptional pace in these years and it is confirming its role in the management of patients affected by several diseases.

Different imaging modalities are used in combination in research and clinical practice, in order to evaluate different characteristics of a particular organ or district. The combination of two imaging modalities, typically PET and CT, or SPECT and CT or PET and MR, is referred to as hybrid imaging.

Hybrid imaging represents the great majority of the daily workflow in several imaging departments in the world. Also, hybrid imaging is used to study biological processes with dedicated animal scanners in research applications.

The European Journal of Hybrid Imaging was created as a platform to publish papers focussed on the use of hybrid and multimodality imaging in clinical practice, clinical trials and pre-clinical research. EJHI is going to be an active part of the family of EANM journals, integrating its role with the main journal, EJNMMI, and the others journals of the family: EJNMMI Research, EJNMMI Physics and EJNMMI Radiopharmacy and Chemistry.

A fast and effective peer review process, in line with the characteristics of the EJNMMI family of journals, has been setup within the Springer Nature platform and ensures a rapid appraisal of manuscripts. The editorial board has been formed thanks to the availability of skilled and enthusiastic experts in hybrid imaging that will guide the EJHI throughout its journey in the world of scientific journals.

The open access model offers a fast and reliable way to disseminate knowledge and can be supported with several funding schemes, when authors have no resources for publication.

Besides original articles, the EJHI is aimed at publishing short communications, case reports and reviews. Comments and ideas can be shared within the scientific community with editorials and letters to the Editor.

We are confident that the EJHI will actively contribute to create a bridge between the different modalities that are used in imaging, and will facilitate their use in the scientific community.